Site Profile.
Owner
Guntersville Industrial Development Board, City of Guntersville, Alabama
Location
Northeast Alabama along the banks of the Tennessee River, 70 miles north of Birmingham, 125 miles south of Nashville. 30 miles southeast of Huntsville and 150 miles northwest of Atlanta.
Within city limits of Guntersville.
Total Acreage
TVA Data Center Site 40 acres
Total park size 428 acres
Largest contiguous tract 221 acres
Smallest available tract 3.7 acres
Area & Topography
Fully-served 428-acre site
Land cost per acre: $20,000 and up (includes all utilities)
Gently rolling terrain with some trees
Good drainage
Zoned I-1
Community Profile
Population - City of Guntersville 8,083
Population - Marshall County 81,000
Labor Force - within 30 miles radius 175,473
Fire Rating
Police Protection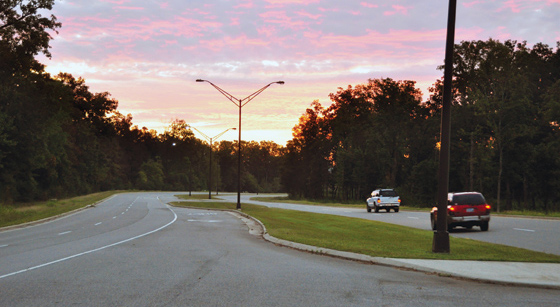 Telecommunications
Hi-speed Internet for Conners Island Business Park is served via iRis Networks, with local, final mile fiber optic network connections from North Alabama Electric Cooperative. As a world-class broadband provider, iRis delivers state-of-the-art, high-speed transport for broadband voice, video and data.
Utilities
Electric:

North Alabama Electric Cooperative, TVA, 3phase

Water:

Guntersville Water & Sewer Board, 10-inch main, million-gallon, ground tank

Wastewater:

Guntersville Water & Sewer Board, 8-inch main

Gas:

Marshall County Gas District, 10-inch high pressure transmission line
Transportation
Highway: US 431 four-lane - on site (N/S)
Interstate 565: 34 miles from site (N/S)
Interstate 59: 30 miles from site (N/S)

Railroad:

CSX Transportation - 2 miles from site

Waterway:

Navigable, Tennessee River, Port of Guntersville - 2 miles from site

Air:

Commercial Service - Huntsville International Airport - 45 miles, Birmingham International Airport - 75 miles
Local Air Service: Guntersville Municipal Airport - .5 miles from site, 3360' paved and lighted, with 5,000-foot FAA-approved runway project under development
Note: Restrictive Covenants and all Environmental, Soils and FONSI reports are available on request.